The menstrual community on Twitter keeps growing. Individuals, social action initiatives, non-profits, menstrual product companies and other organizations are sharing information and talking about the menstrual cycle and the menstrual experience.
Here's a short list of menstrual-related Twitter accounts you may want to follow:
@AuntFlo28 Tweets about menarche and promotes menstruation as something that should not be medicalized. She invites followers to take part in a poll asking at what age you got your period.

Via Twitter message (how else?) Kylie Matthews said, "I launched the poll as a way to gather data, but more importantly start conversations about #Menarche. For far too many women the experience was not a positive one. It is my hope that reflecting on one's own positive or negative experiences (and ideally conversing with others!) will help move toward efforts to make things better for the next generation."
Last Wednesday, Sep. 9, 2015, @AuntFlo28 co-hosted #Menarche_PCOS_Talk with Polycystic Ovary Syndrome advocate @PCOSGurl who includes menstrual information in her Twitter advocacy to improve education and outcomes for women with PCOS (or Anovulatory Androgen Excess).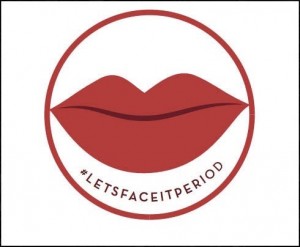 @bpreparedperiod helps "women and girls go with the flo," and offers resources and tips for parents to help them help their daughters prepare for menstruation.
SMCR member Chella Quint tweets @periodpositive where the goal is to be "funny w/o insulting menstruators of all genders, challenges taboos, reclaims discourse."
Suzann @periodwise says on her Twitter profile, "Let's end menstrual taboos right here, right now." She tweets on all things menstrual, complemented by the Period Wise website and blog.
New on the Twitter feed is @LtsFaceItPeriod which launched the #LetsFaceItPeriod campaign on Sep. 1, 2015. You can read about the social action initiative at Lady Clever: Let's Face It. Period Breaks Down Menstrual Taboos.
This is just a small sampling of those on Twitter talking about periods. If you follow a few menstrual communicators not mentioned here, please post their Twitter handles in the comments section and tell us a little bit about them.