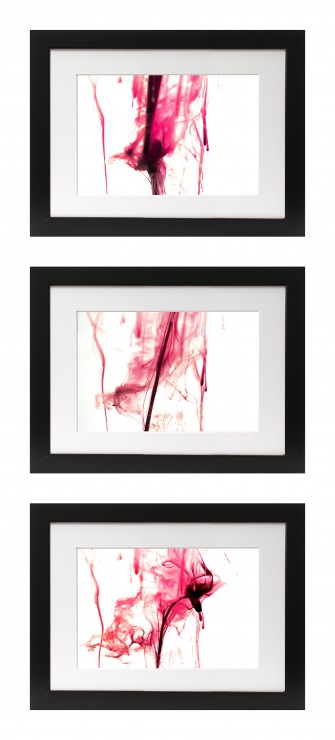 When it comes to modern political and social activism, one of the most powerful tools one can use to make a statement and shift public perception is art. Whether it's film, fine art or the written word, art has the ability to challenge society's deepest assumptions by sparking new ideas, catalyzing critical thinking, and inspiring individuals to take steps in new directions that facilitate social change. This weekend we look at menstrual activism in the arts with some old favorites and some new projects.
***
"My purpose in producing and exhibiting these works was to confront the taboo associated with menstruation, demystify this natural function of the female body, and promote thought-provoking discussion among women & men, artists & non-artists alike."
– Jennifer Weigel, Widening the Cycle participating artist
SMCR's own Widening the Cycle explored the power of fine art this past June with an international art exhibit during its annual conference. More than 30 artists displayed artwork addressing the menstrual cycle, menstrual stigma and the larger role reproductive justice plays in our world.

Watch artists Diana Álvarez, Gabriella Boros, Ingrid Goldbloom Bloch, Lucy Madeline and Kyle discuss menstrual activism in their art practices – ranging from personal empowerment to mental health and menstruation. (45-minute video)
Browse through the exhibit and event photo album. (It's a downloadable pdf.)
Check out the enduring materials from the show which include an exhibit catalogue (a wonderful addition to any fine art or women studies library collection) and a comprehensive website housing all the submitted artworks and artist statements.
Social news and entertainment website Buzzfeed documented four women's first time using a menstrual cup and, well, you just have to watch this one for yourself. It's short and humorous but also surprisingly informative for the cup-curious and newbies alike. (5 minute video)
Earlier this year, University of Waterloo student and poet Rupi Kaur set the social media world on fire when she posted a photograph of a woman sleeping, menstruating and leaking all while fully clothed. The horror! After having her photo removed twice from Instagram, this is what Kaur had to say:
"thank you Instagram for providing me with the exact response my work was created to critique. you deleted my photo twice stating that it goes against community guidelines. i will not apologize for not feeding the ego and pride of misogynist society that will have my body in an underwear but not be okay with a small leak. when your pages are filled with countless photos/accounts where women (so many who are underage) are objectified. pornified. and treated less than human. thank you."
"We spend on average 6-8 years of our lives bleeding – why is one of the world's most common occurrences also one of its biggest taboos?" MA Candidate (Radio Production and Management, Sunderland University) Bridget Hamilton explores this in a three-part radio documentary series for the community media sector based around menstruation called Seeing Red. In this ground breaking documentary, she researches the origins of menstrual stigma and asks what is being done to challenge it.

 Episode 1: Moon Landing explores the history of our menstrual stigma, and the feeling of a first period
 Episode 2: Toil and Trouble explores the medical, social and financial challenges many face when they menstruate
 Episode 3: Making Waves explores the slow, but sure, movement towards 'period positivity'
What do you do with 90 used menstrual rags that are hanging around the house? If you're Chilean artist Carina Úbeda, you make an incredible embroidery installation. That's right, this is a 3D menstrual art experience you walk around and interact with spatially. Of the installation, one visitor told the Daily Mail, "Male blood is celebrated for being brave while ours is a shame. This won't change until we release our body as the first stage of political struggle."
ICYMI – Laura Wooley from the great queer website Autostraddle is writing a year-long series about menstruation and she is seeking input. Thanks for the hot tip, Liz!
And who could forget the vaginal knitting performance by Melbourne craftivist and Craft Cartel member Casey Jenkins? "Casting Off My Womb" is quite possibly my favorite piece of menstrual performance art. It nods to feminist art pioneers Carolee Schneemann and Judy Chicago while being incendiary in a whole new way due to the long reach of social media.
"I have created a performance piece that I believe is beautiful and valid and I know that this belief can withstand all the negativity in the world." – Jenkins
And now for something completely different, but definitely trending online this week: Loon Cup. Love it or hate it, this "smart cup" has even more people talking about alternative menstruation and that's a menstrual activism win.
Jen Lewis is the Menstrual Designer and Conceptual Artist behind Beauty in Blood. Her work "The Writing Is on the Wall" is featured above; photography Rob Lewis.