Much has been made of Donald Trump's snarky remark about how the journalist Megan Kelly spoke to him at the Republican candidates' debate on Aug. 6, 2015. And the news is dominated by stories about how social media are reshaping every aspect of our lives, not to mention the proliferation of web sites of various kinds that explore various aspects of the menstrual cycle and promote new and well-established products.
Nearly five years ago re:Cycling reported the story of how media hacking and news coverage converged in such a way as to besmirch the reputation of one of the most highly placed members of the British Monarchy–Charles, Prince of Wales–by disclosing a casual reference he made to a menstrual product. As we explore menstrual media references this month, it seems worthwhile to take another look at this story, originally published on this blog on Aug. 29, 2011:
Menstruation, Prince Charles and The Biggest Hacking Scandal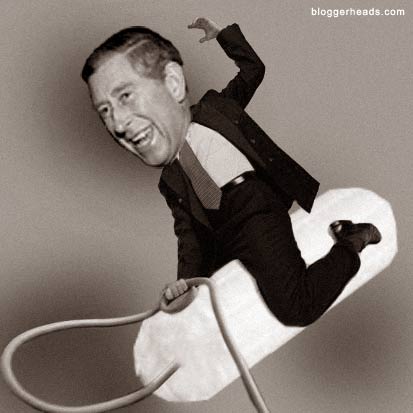 In light of the recent scandals over the phone and email hacking practices of Rupert Murdoch's newspaper editors and reporters it is surprising that there has been so little mention of the fact that the most scandalous, damaging and far reaching hacking story associated with Murdoch centered on menstruation.  The only thorough review of the links between the current story and the earlier one appears in a detailed piece in The Sun-Herald from Sydney, Australia, July 31, 2011.
I have previously written about the incident here and elsewhere, but in light of the current coverage it deserves a fresh look.
In brief: in 1989, a time before either cell phones or email were commonly available (hard to believe there was such a time!), a phone hacker recorded a phone sex exchange between Prince Charles and his then-lover, Camilla Parker-Bowles in which erotic mention was made of tampons.  Three years later the full transcript of the conversation was published in an Australian women's magazine, New Idea, and a world-wide scandal ensued.
Now, nearly 20 years after the story broke, it is about to come back into play as further investigations proceed into the illegal hacking activities of the Murdoch media empire.  Perhaps we will finally learn how much was paid for a menstrual story that humiliated the Royal Family, who the hackers were, and who authorized its purchase and publication.
And, from a Menstrual Studies point of view, its longevity reflects the deep fascination that the menstrual cycle continues to hold for the general public.
David Linton is an Emeritus Professor at Marymount Manhattan College. He is also Editor of the SMCR Newsletter and a member of the re: Cycling editorial board. His research focus is on media representations of the menstrual cycle as well as how women and men relate to one another around the presence of menstruation.