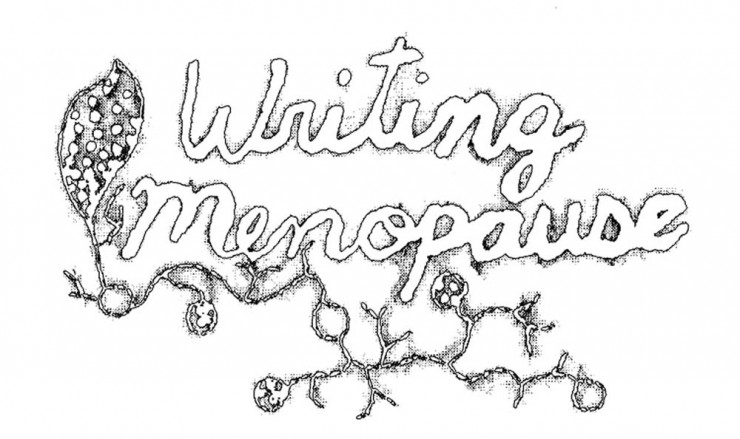 Writing Menopause, a diverse literary collection about menopause to be published in the spring of 2017 by Inanna Publications, was first introduced to the Society for Menstrual Cycle Research in a session presented at our June 2015 biennial conference in Boston. The anthology includes about fifty works of fiction, creative nonfiction, poetry, interviews, and cross-genre pieces from contributors across Canada and the United States. With this collection, editors Jane Cawthorne and E.D. Morin hope to shine a light on a wide variety of menopause experiences and to shatter common stereotypes. This week at re: Cycling we are pleased to be able to preview excerpts from the collection.
---
Two pieces by Tanya Coovadia:
The Things We Carry
Last January, I attended a reading series during which two distinguished male authors, in separate opening remarks, said derogatory things about middle-aged women. I don't think I would have noticed twenty years ago, but lately, for some reason, I am particularly attuned to discussions regarding women of my uncertain age, especially when they are uttered in tones suggestive of a shameful affliction.
Benign anal tumours, say.
One of these men, after his reading, went on to add further insult. He described the typical bumbling misapprehension of his work by that admiring but clueless fan who, he assured us, in his laconic drawl, was "always a middle-aged woman." As a late-blooming member of the midlife sisterhood, this incident sparked a poem in me.
And (in a laconic drawl) it's dedicated to Tim O'Brien.
Always a Middle-Aged Woman
(because middle-aged men are just men)
Striding up
with her staunchly held head
her opinions bared like wrinkled breasts
And those years she wears
a bitter glory of furrows and lines
etched by thousands of erstwhile smiles.
Who do they think they are,
these ladies (and we mean you, ma'am)
thriving so steadily
from their cloak of invisibility
We don't see your once young face
we never stroked your once shining hair
We can't hear your
sweet, barely caught breath
because you're
Blatantly!
middle-aged
As though ageing is some kind of victory
as though youth and beauty
are not mandatory
As though you can bring
something new to the world
when your womb is too old to care.
My mirror,
I,
we,
you
reflect this, true
We lift our jowls toward our ears
and smile
a spasm, a rictus. Of youth.
Tanya Coovadia is a technical writer, blogger and angry-letter-writer-cum-fictionalist who occasionally dabbles in poetry. She's a Canadian transplant to Florida who, during the writing of this poem, realized her interminable hot flashes were not weather-related after all. Ms. Coovadia has an MFA in Creative Writing from Pine Manor College in Boston. Her first collection of short fiction, Pelee Island Stories, recently won an IPPY award.