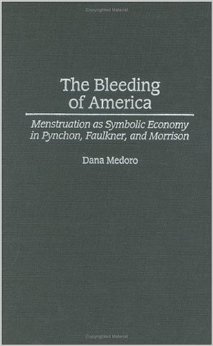 Given their first-hand awareness of the role it has played in their own lives, it is not surprising that women writers (and researchers) have included references to the menstrual cycle in their books. Even so, social taboos have probably tended to keep the subject from appearing as often as it might have otherwise and literary menstrual references have only come to the surface in the mid-twentieth century. The women appearing in the fiction of Bronte, Eliot, Alcott, du Maurier, and the other major women writers of the 19th century seem to be lacking a menstrual cycle regardless of how otherwise thoroughly detailed their lives were depicted.
Men too have been menstrual-averse. The cycle played no part though later male authors, notably William Faulkner, did include specific menstrual details if only to capture a male chart in the lives of the women in the novels of Hardy, Conrad, James, Dickens, Lawrence or Hawthorne, to name a representative few. Men seem to be "in avoidance," if not "in denial" about the cycle's presence. Even male writers such as Updike and Roth for all their frank depictions of sexual behavior have treated menstruation gingerly, in the case of Roth using it in two novels to express characters' kinkiness.
The more permissive climate of the past 60 or 70 years not only saw the rise of a new generation of women writers, but a greater openness to the inclusion of menstrual material in their stories. Toni Morrison, Joyce Carol Oates, Anne Patchett, and Margaret Atwood, to name a few of the most noteworthy, have built entire scenes or even complete plot lines around menstrual tropes.
This is a subject rich in possibilities for a wide variety of investigations in literary studies, women's and gender studies, communication and media, sociology, psychology, and even religious studies. With the exception of Dana Medoro's path breaking book, The Bleeding of America, the subject is virtually untouched. Readers are urged to dig into this treasure trove of material.
So, the purpose of this blog post is to invite suggestions of literary sources that are fertile ground for cycle commentary. Help build the menstrual canon with mention of "sightings" that have come to your attention.