In State of Wonder–Part 1, I mused as to why, in a novel revolving around the extended menstruation and fertility of the Lakashi tribe, only the menstrual cycles of the Brazilian women being studied are made visible to the reader. Why does author Ann Patchett ignore the menstrual cycles of the novel's protagonist, Marina Singh, or the other female research scientists? If they are eating the tree bark responsible for the Lakashi's extended fertility, their menstrual responses should be of interest to the author.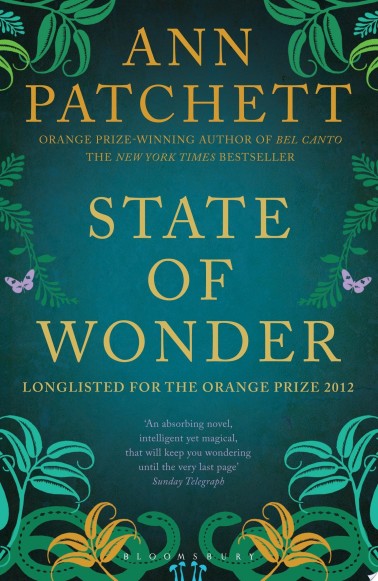 Failure to mention the scientist's cycles points to another puzzling omission. There is no reference to menstrual-care products the women would have required while living in the rainforest for years at a time. There was opportunity to do so because a few key scenes are set in the store where research leader Dr. Annick Swenson buys all the provisions for the camp.
Marina must visit the store immediately upon landing in Manaus because the airline has lost her luggage. She has no clothing, no toiletries, none of the necessities for daily living. Why does she not purchase, visibly to the reader, tampons or pads? If not on her first trip to the store, then on her second as she prepares to leave for the remote research camp with Dr. Swenson? She obviously will need such supplies as her weeks in Brazil progress, and the timing of her cycle, as deduced by this reader, suggests she needed them while in Manaus or shortly after arriving at the camp.
I think Patchett's reason for leaving out this menstrual-related information was not literary, but rather socio-cultural in nature. She tastefully shares the intimate details of the Lakashi women's menstrual cycles, but can't find a way—with even a few sentences—to convey this aspect of other female character's lives? (Exception: Dr. Swenson, whose experiences I avoid mentioning to prevent plot spoilers.) Did she try? Did she resist? If so, why? What a missed opportunity. Marina's interior dialogue makes it clear she is a still-menstruating woman wondering if motherhood will be in her future. How easy it would have been to use Marina's need for tampons as a segue to consideration of her fertility.
Which brings me to another menstrual-related omission in the book. There is no reference to the birth control methods used by Marina and one of the female scientists who lives in the research camp with her husband.
Drs. Nancy and Alan Saturn are part of the research team in Brazil. Nancy is eating the bark, enhancing her fertility. Pregnancy is not an objective for this couple; they must be using contraception. The pill would be contra-indicated—a double whammy of exogenous estrogen provided by the pill and the Martin tree bark could have negative consequences. Condoms would break down in the heat. A Mirena IUD might not be at odds with the estrogenic bark, which has another critical medicinal effect the researchers are eager to access. Maybe a copper IUD? A diaphragm? Abstinence? Does it matter? Perhaps not, but why not be daring and tell the reader anyway? Surely the author must have asked herself these questions.
And what about Marina's choice of birth control? At 42 she is in an intimate relationship with a much older colleague, the man who sent her to Brazil. Contraceptive use is implied but the method is, yet again, invisible. One can assume it was non-hormonal and not an IUD because of what happens at the end of the novel. But why not write one or two sentences along the way to convey this information? Isn't this what good writers do, litter clues as a novel progresses to set up what happens later?
Ann Patchett chose not to mention the femcare products and birth control methods her characters used in her novel State of Wonder. I can't help wondering: why?
Continued in State of Wonder—Part 3: Wondering about menstrual cycle misconceptions in postulating a theory of extended fertility