If you've been hearing about the "female Viagra" drug Flibanserin in the media over the past couple of months and wonder what it's all about, Dr. Aaron Carroll at Healthcare Triage sets the record straight and tells you everything you need to know about Flibanserin in this seven-minute video.
To quote Dr. Carroll, "The two drugs aren't even close to the same thing." He asks the media and others to stop calling Flibanserin the "female Viagra." He says, "It makes pharmacology nerds very, very unhappy when you do that."
For one, Viagra is taken on an as needed basis and does not work if the man is not already sexually aroused. Flibanserin is intended for daily use by premenopausal women and affects the brain, supposedly, to increase feelings of sexual desire. Side effects include, says Dr Carroll, "marked sedation, somnolence and fatigue," and are made worse in those who consume alcohol.
The video provides need-to-know information because the U.S. Food and Drug Administration is leaning towards approving Flibanserin this summer. Though twice rejected by the FDA, an aggressive public relations campaign spearheaded by drug owner Sprout Pharmaceuticals has resulted in a recommendation to the FDA to approve the drug with risk management options. A letter to the FDA signed by Leonore Tiefer, PhD, of the New View Campaign and over 100 other concerned health experts, sex researchers and clinicians urging them to reject approval of flibanserin explains the many problems with the drug. Here's what the letter says about Flibanserin and alcohol:
We will leave the topic of flibanserin's safety to others, except for mentioning the truly absurd situation of approving a daily drug to boost the sex lives of women in their 30s and 40s that must not be taken with alcohol. As sexologists we can say with confidence that this advice is both preposterous and doomed.
The New View Campaign also wrote a song advocating that women and the FDA Throw That Pink Pill Away: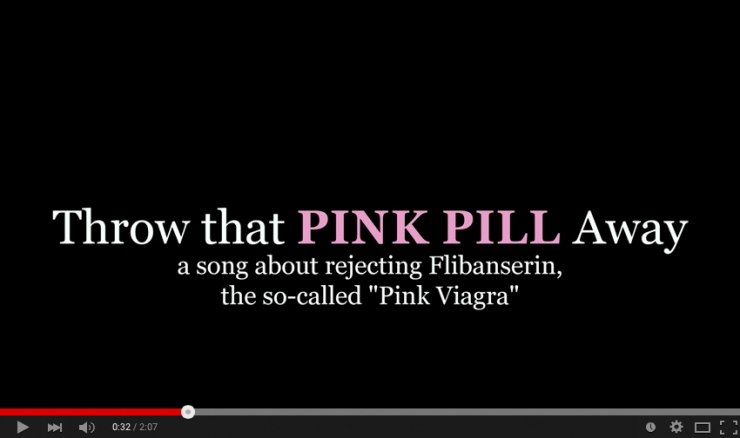 The Society for Menstrual Cycle Research added its voice to those opposing FDA approval of Flibanserin by passing the following resolution in June at its 2015 Biennial conference in Boston, MA:
The Society for Menstrual Cycle Research regrets the recommendation by the Bone, Reproductive, and Urologic Advisory Committee and the Drug Safety and Risk Management Advisory Committee on June 4, 2015 that Flibanserin be approved with risk management options. The discussion after the vote was recorded made it clear that even those in favor had serious reservations about the efficacy and safety of the drug. We believe that women want safe and effective options, not unsafe and ineffective medications. Therefore, we urge the U.S. Food and Drug Administration to override the Advisory Committees' decision and reject this drug.
NOTE: This post was updated on July 30, 2015 at 12:55 p.m. EST with the addition of the song.