Free access to Women's Reproductive Health, the journal launched by the Society for Menstrual Cycle Research in 2014, is available to all SMCR members. To become a member of the society or to obtain a subscription contact info@menstruationresearch.org.  For media, submission, and other inquires about the journal contact editor Joan C. Chrisler at jcchr@conncoll.edu.
Guest Post by Joan C. Chrisler
The spring 2015 issue of Women's Reproductive Health contains our first special section: on postmenopausal hormone therapy. The section contains a thought-provoking anchor article by menopause expert, psychologist Paula Derry. It is followed by short commentaries by a multidisciplinary group of menopause experts–a physician, a sociologist, an anthropologist, and a nurse. This set of papers would make an excellent reading assignment for a women's health course, and it is sure to generate class discussion. The issue also contains two other research reports: one on women's experiences with gynecological examinations, and the other on the relative absence of mentions of menstruation in novels aimed at adolescent girls because publishers are worried about challenges by parents and school boards that could hurt sales. The issue is rounded out with three book reviews.
Women's Reproductive Health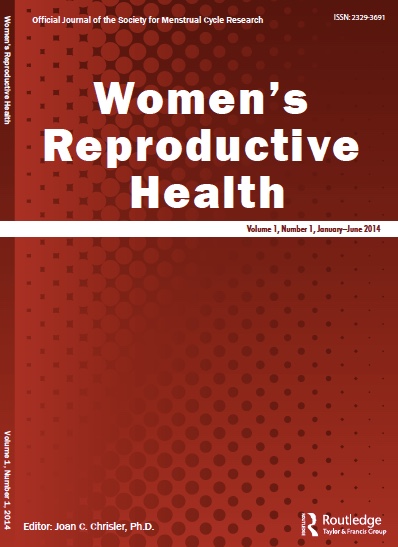 Volume 2, Number 1 (Spring 2015)
Special Section on Postmenopausal Hormone Therapy
Article
Evidence-based Medicine, Postmenopausal Hormone Therapy, and the Women's Health Initiative – Paula Derry
Commentaries
The Science of Marketing: How Pharmaceutical Companies Manipulated Medical Discourse on Menopause – Adriane Fugh-Berman
Medicalization Survived the Women's Health Initiative…but Has Discourse Opened up? – Heather Dillaway
Animal Models in Menopause Research – Lynette Leidy Sievert
Lost in Translation? – Nancy Fugate Woods
Articles
A Multi-method Approach to Women's Experiences of Reproductive Health Screening – Arezou Ghane, Kate Sweeny, & William L. Dunlop
The Censoring of Menstruation in Adolescent Literature: A Growing Problem – Carissa Pokorny-Golden
Book Reviews
Investigating the Ubiquitous: The Everyday Use of Hormonal Contraceptives – Marie C. Hansen
Menstruation's Cultural History – David Linton
WomanCode: Caveat Emptor – Elizabeth Rowe
Joan C. Chrisler is a professor of psychology at Connecticut College and the founding editor of Women's Reproductive Health. Her special areas of interest include PMS, attitudes toward menstruation and menopause, sociocultural aspects of menstruation, and cognitive and behavioral changes across the menstrual cycle.