Giuliana Serena critiques Newsweek's period stigma cover story
Note: This piece was first published on  MoontimeRising.com. It has been edited for length for this repost at Menstruation Matters.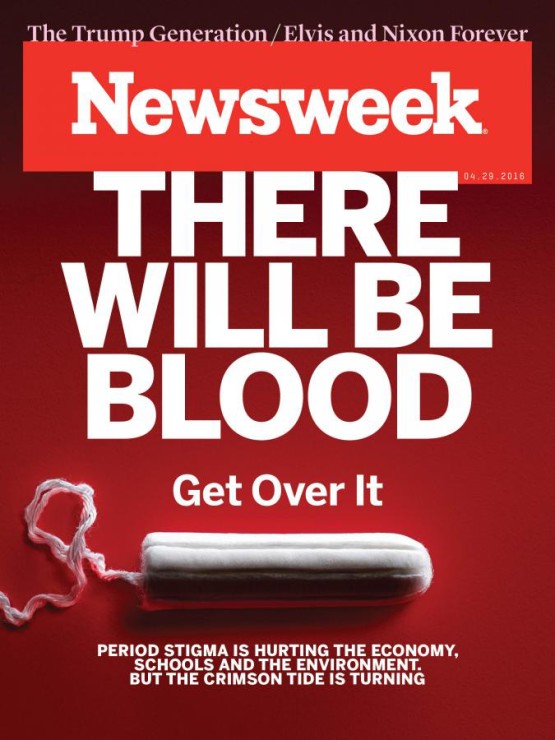 I was pleasantly surprised and cautiously optimistic when I caught sight of the April 29, 2016 cover of Newsweek. It obviously got my attention.
I'm elated, and a bit discombobulated, to see menstruation and periods getting so much public and positive attention. But there's also a lot of misinformation, subtle (& overt) shaming, and even pseudo-period positivity for profit out there, so I read the article with a fair amount of skepticism.
When it comes right down to it, this article wasn't written for me. Maybe not for you either.
It was written for a broad audience, and I'm delighted it will be read by so many who will be learning about some of these issues for the first time.
In the opening paragraph, writer Abigail Jones goes so far as to say: "This process is as natural as eating, drinking and sleeping, and it's beautiful too: There's no human race without it."
Highlighting the stigma and shame that those who menstruate are faced with worldwide is useful and relevant information for the mainstream.
Although I do take issue with certain omissions and the overall emphasis, I sincerely appreciate the coverage. And Chis Bobel, President of the Society for Menstrual Cycle Research, is quoted a few times!
Mentioned are Rupi Kaur's banned self-portrait, the needs of those in prison and those who can't afford "menstrual materials," the very real health and environmental costs associated with conventional tampons and pads, the vast number of women and girls, ESPECIALLY in the Global South, who are ostracized, without resources, and face severe taboos and stigmas.
A lot was covered. A lot was not. It's a big topic, and they couldn't fit in everything. But here are a few issues I wish had been addressed:
It's odd not to see women listed amongst the top "things" affected by period stigma in the subtitle: "Period Stigma is hurting the economy, schools and the environment. But the crimson tide is turning." Although, it's interesting to see it framed this way, and the article does address those topics.
Cups and reusables are only briefly mentioned, but deserved more attention with regards to environmental and health benefits.
Also, the opening sentence was not completely accurate: "Let's begin with the obvious: Every woman in the history of humanity has or had a period."
It's true that the vast majority of those who menstruate are women (and girls), some women and girls (for various reasons) never have had or will have a period, and some who are not women and/or girls, will. We are just starting to understand how menstruation relates to transgender experience. In a time when we're re-learning sex and gender more inclusive language could have been used. At the very least, these arising issues should have been referenced.
And I would love to see more talk about the benefits to young girls in educating and preparing them for coming-of-age, resources for doing so, and the value of ritual and ceremony in that process—but I'm not holding my breath!.
There's more I didn't love and I could pick it apart further, but honestly, I'd rather you read it for yourself.
This piece is bound to have a positive impact. Transforming the culture is a complex unfolding. And one cover story won't do it. Continuing this conversation is crucial.
Periods getting this kind of attention in mainstream media would not have been possible without the tireless work of countless activists, educators, advocates, researches, and ordinary women and people destigmatizing and normalizing menstruation, body literacy, women's bodies, sexuality, fertility, and all those other juicy topics that make us whole.
One (news) cycle at a time, we are making progress.
As Lara Owen, author of Her Blood Is Gold, commented when I shared a screen shot of the cover on Facebook:
38 years since The Wise Wound, 25 years since Dragontime, 23 years since Her Blood Is Gold: Awakening to the Wisdom of Menstruation, and since then many others. So grateful to everyone who has contributed to hauling this abusive and absurd taboo out into the light and transforming it into health and resilience.
And in reference to the article not going far enough, she added, "As we know too well, Rome wasn't built in a day."
Our society needs to get over our fear of periods. We need to let go of our fear of bodies and fluids, empowered women, sex, pleasure, self-determination, autonomy.
Yes, there will be blood.
Have a read, and let me know what you think!
Giuliana Serena is a Ceremonialist, Rites-of-Passage Facilitator, Menstrual Cycle Educator, and the creator of MoontimeRising.com.