Guest Post by Sarada Tangirala
When Ignorance Isn't Bliss: Rally in Washington for Safe Feminine Care Products
Women's Voices for the Earth (WVE) is hosting a rally at the nation's capital to raise awareness of the need for safe feminine care products. Representative Grace Meng has introduced the Menstrual Product Right to Know Act of 2017 (H.R. 2416) requiring manufacturers of menstrual products to publicly disclose ingredients. The rally is an opportunity to stand with Rep. Meng and fight for the right to know what is in feminine care products. All individuals and organizations interested in reproductive health, healthy menstruation, and toxic-free living are invited to attend.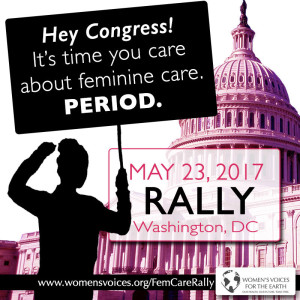 May 23, 2017
House Triangle (Capitol Hill)
Washington, D.C.
12:00 PM – 1:00 PM EST
Why We Need to Rally for Safe Feminine Care
Menstrual products are not luxury items—they are necessities. On average, a woman will use over 17,000 tampons in her lifetime. Feminine care products come in contact with the most sensitive skin on a woman's body. But companies are not required to disclose all ingredients used to make them. What women don't know about chemicals in these products could be hurting their health.
Tampons, menstrual pads, douches, feminine wipes and powders, are manufactured with an array of synthetic chemicals. Many of these chemicals are linked to cancer, reproductive harm, hormone disruption, severe skin allergies, and other serious health problems. WVE outlined the potential health consequences of chemicals in feminine care products in its Chem Fatale report.
A Virtually Unregulated Industry
No government regulations prohibit the industry from using carcinogens and hormone disruptors for functional purposes. The presence of harmful contaminants and impurities like pesticide residues are similarly not restricted. The $5.9 billion feminine hygiene industry is virtually unregulated when it comes to the use of harmful chemicals and contaminants of concern to women's health. Though regulated by the Food and Drug Administration (FDA), the agency conducts little to no safety assessment of feminine products. The FDA doesn't have authority to issue mandatory product recalls if a product poses a public health risk.
The Need for Full Disclosure

Harmful chemicals are legally allowed to be used in feminine care products. This makes it even more important for women to have full ingredient information. Women can then make informed purchasing choices, avoiding products with certain chemicals to which they don't want to be exposed. Tampons and pads, regulated as medical devices, are not required to disclose any ingredient information to the public. Douches, feminine wipes, washes, and powders are cosmetics requiring ingredient labels, however fragrance ingredients don't have to be disclosed.
The Problem with Fragrance
The word 'fragrance' appears on many product labels, but this is a catch-all term that could include dozens of different chemicals. Fragrance ingredients are considered trade secrets and thus are not required to be disclosed to consumers. But many fragrance chemicals can harm women's health and have been prohibited or restricted in other countries. The industry opposes any attempts to mandate ingredient disclosure, which continues to put women's health at risk.
Racial Disparities
Black and Latina women are disproportionately impacted by toxic chemicals in feminine care products. This is largely because they're much more frequent users of feminine cleansing products like douche, wipes, and sprays. One study found that Black women had phthalate levels in their bodies that were 48% higher than in white women. These higher levels can be partially explained by the greater frequency of douching by Black women, compared to women of other races and ethnicities. Phthalates are hormone disruptors also linked to reproductive and developmental harm. These chemicals, often used in fragranced products, are not disclosed on ingredient labels.
Taking Action
A woman's right to choose can and should include the right to choose safe products. On May 23rd, let us send a clear message to elected leaders: It's time for Congress to care about feminine care.
Because toxic chemicals don't belong in feminine care products. Period.
Those interested in attending the rally can RSVP at the Facebook Event page or email womensvoices@womensvoices.org. And learn more about chemicals of concern hiding in feminine care products at www.womensvoices.org.
Sarada Tangirala is the National Campaigns Manager at Women's Voices for the Earth, where she leads corporate campaigns aimed at eliminating toxic chemicals that harm our health and communities. Before joining WVE, she led market-based change efforts at the Campaign for Safe Cosmetics. Sarada holds a Masters in Public Policy from Oregon State University, and a BA in Sociology from UC Davis.