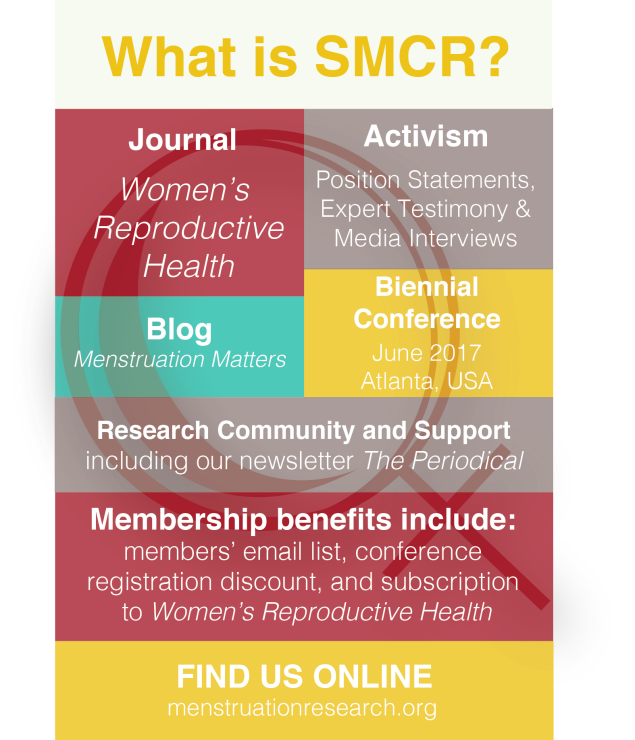 May 28 is Menstrual Hygiene Day. All over the world events are planned in honor of this year's theme: Menstruation matters to everyone, everywhere. 
May 28, 2016, also marks the date that re: Cycling, the blog of the Society for Menstrual Cycle Research, gets its new name:
Menstruation Matters
The Society created this weblog to increase the visibility of both SMCR and menstruation research in September 2009. We named it re: Cycling to represent our view of menstruation as more than merely bleeding, but as a cycle within the larger cycle of life. The name also pays homage to our late colleague, Randi Koeske, who first used this term.
During the blog's seven-year history, menstrual advocacy and activism have exploded worldwide. Though it all, this blog has addressed and documented all matters menstrual, at the discretion of its many and varied authors. As noted when the blog launched:
"The views expressed are not necessarily those of SMCR, nor even the unanimous views of all blog contributors. Indeed, although we believe in holding writers accountable for their words, we also reserve the right to change our opinions on the basis of new information. We adhere to a vision of academic freedom that is ethical, fair, and responsible."
This will not change. Readers of our blog know that our writers share and interpret research, report menstrual happenings, express strong opinions, and offer fresh, informed analyses of menstruation matters related to academia, social justice, media, the arts, advocacy and activism.
Expect this to continue as our blog takes on the name of the heavily used hashtag we founded in the lead-up to our 2013 Biennial Conference in New York City: #MenstruationMatters.
The Society for Menstrual Cycle Research has been making menstruation matter since 1977, when this nonprofit organization was founded by a multidisciplinary group of women who were pioneers in understanding the importance of menstrual cycle research to women's health. Our 150+ members produce, publish, and convey research findings that impact menstrual health across the lifespan, and are involved in a broad range of advocacy initiatives.
We know Menstruation Matters, and now, finally, so does the media.
As leaders in the field, SMCR applauds all of today's menstrual advocates and activists—including our members—who have made menstruation mainstream news. Our hard work to break taboos, derail stigma, share accurate information, secure menstrual rights, and meet the menstrual health needs of girls and women around the world led to 2015 being named "The Year of the Period" by Cosmopolitan, BuzzFeed, Feministing and NPR.
And the period party continues.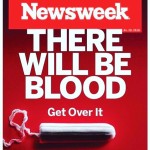 On April 20, 2016, Newsweek's online edition published The Fight to End Period Shame is Going Mainstream, which became the cover story for the April 29, 2016 print issue. The bright red cover featured a tampon and the bold headline There Will Be Blood–Get Over It.
The Atlantic, on April 28, 2016, published Seeing Red: The Rise of Mensesplaining. The subhead reads: With women explaining periods to men, pop culture is finally treating menstruation as a societal issue everyone should care about.
"Menstruation, a societal issue everyone should care about." 
The Society for Menstrual Cycle Research has been caring for the last 40 years!
Menstruation Matters will carry on the re: Cycling legacy as we continue to report, comment, summarize, analyze and opine on all matters menstrual.
Please keep reading.
Laura Wershler is the editor-in-chief of Menstruation Matters, the blog formerly known as re: Cycling.