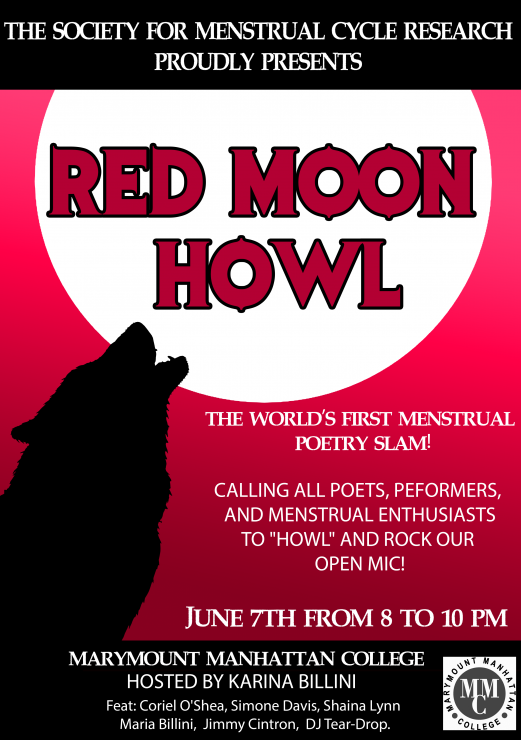 The World's First Menstrual Poetry Slam, The Red Moon Howl, will occur the closing night of the SMCR conference, June 7, at Marymount Manhattan College in New York City.  Featuring the works of noted poets such as Lucille Clifton, Sharon Olds, Anne Sexton, and Ntozake Shange as well as new works by emerging poets such as Coriel O'Shea and Maria Billini, the evening event will offer a variety of artistic perspectives on the menstrual cycle.
Given the history of menstrual lore and the way knowledge of the cycle has been shared by women over the span of human history, it is particularly appropriate that the topic of menstruation find an outlet in the form of poetry, the original form of oral creative expression.  The event will literally "give voice" to a commonly hidden, taboo topic.  In keeping with the conference theme, "Making Menstruation Matter," the poets and performers will offer yet another contribution in the ongoing effort to bring the period out of the closet.
The evening will not be limited to just those who are on the performance roster.  Everyone planning to attend the conference is encouraged to prepare a piece for the open mic portion of the evening which will open the event.
Some questions have been raised about the nature of poetry slams.  Frequently such events have a competitive element as participants vie with one another for the favor of audience or judges.  That's not the case this time.  Instead, the organizers are emphasizing the fact that the main difference between slam poetry and the more traditional, familiar variety is that poems presented in the slam setting are meant to be "performed," that is, read or recited out loud so that the fundamental elements of the human voice engaged with the nature of spoken words can be savored by those in attendance.  In this regard, the poetry slam is a reinvigoration of the original sources of the poetic impulse.
Following the conference, video samples of the performances will be available on line.  Stay tuned for more information.