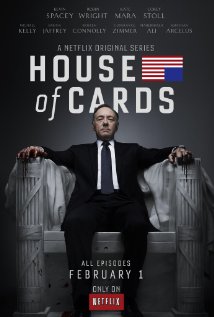 (Spoiler alert: if you haven't finished or intend to watch the show discussed here, you might wait to read this post until later.)
The premises of the much-discussed new series House of Cards hosted on Netflix, are that no one in the world of politics can be trusted, that alliances are fragile, and that disaster looms at every moment. Beneath the surface of beautiful buildings, attractive people, glamorous receptions, and rousing rhetoric lie depths of deception and betrayal.
At the heart of the intrigue are the central power couple, US Congressman Frank Underwood and his wife, Claire, who heads a non-profit NGO dedicated to providing clean water to impoverished African villages. They appear to be well matched and unified in their ambitions for both personal power and their pet projects while expressing benign neglect toward each other's outside sexual pursuits.
All is well in the Underwood cacoon until perimenopause makes its destabilizing entrance. There's a concept that's sometimes referred to as "Chekhof's Gun" that goes something like this, "If you show a shotgun on the wall in an early scene, someone better use it before the play is over." Well, the menstrual shotgun first appears in an early episode when Claire is seen standing before an open refrigerator door and she's not looking for a quart of milk. Frank notices, says little, and the moment passes. Four or five episodes later Claire makes a deal to accomplish one of her goals, knowing it will undercut a grand scheme he is working on. When he learns of the betrayal, he employs the deadly menstrual shotgun, "Is it the hot flashes?" Whereupon she throws him out of her office and departs for New York to be with a long-time lover.
But this is only the first season of what promises to be an ongoing saga, so following yet another political crisis, she returns to Washington. But something has changed. She has been having dreams about saving a child who is being choked by vines and, in a final scene, visits an ob/gyn to discuss having a baby, despite the fact that she has had three prior abortions. Perimenopause has suddenly altered her perspective. As viewers have already learned that her husband hates children, the set up for next season's drama is well established.