One way of telling how comfortable a man is with the biological facts of women's lives is how he responds to calls for him to go shopping for menstrual products or to have physical contact with a woman's menses.
Depictions of this challenge have occasionally been a subject of humor on TV shows such as in the episode of King of the Hill titled "Aisle # 8" in which the bumbling Hank Hill has to enter the fearful menstrual aisle of a supermarket or, for contrast, in an episode of Californication when the father of a daughter who has just had her first period heroically fends off other customers to get her the last package of pads on the shelf.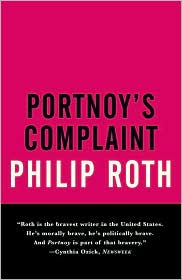 An early literary description of a menstrual product shopping moment, one that was deeply traumatic for the character, is in Philip Roth's 1967 novel, Portnoy's Complaint. Set in a psychoanalyst's office during a single rambling session, Alex Portnoy relates a terrifying incident from his childhood when, at the age of eleven, his mother sent him out to buy a box of Kotex:
"It was years later that she called from the bathroom, Run to the drugstore! bring a box of Kotex! immediately! And the panic in her voice. Did I run! And then at home again, breathlessly handed the box to the white fingers that extended themselves at me through a narrow crack in the bathroom door. . . Though her menstrual troubles eventually had to be resolved by surgery, it is difficult nevertheless to forgive her for having sent me on that mission of mercy. Better she should have bled herself out on our cold bathroom floor, better that than to have sent an eleven-year-old boy in hot pursuit of sanitary napkins!" (43-44)
Whew! Now there's a Freudian field day, and from a time when Freudian technique was in full fashion. More than 30 years later, in The Dying Animal (2001 ), another Roth character seems to have made some progress, at least on the surface. Perhaps his analysis has succeeded. A senior professor, the 62-year-old David Kepesh, plays out an erotic fantasy with a 24-year-old graduate student, Consuela Castillo. Kepesh, a serial womanizer who considers himself an erotic master, is stunned when she tells him that a former boyfriend liked to watch her take out her tampon, realizing that he has never done anything like that. His sexual competitiveness requires that he immediately enact the same scene. However, the act throws him into a state of Portnoy-like humiliation:
"Then came the night that Consuela pulled out her tampon and stood there in my bathroom, with one knee dipping toward the other and, like Mantegna' Saint Sebastian, bleeding in a trickle down her thighs while I watched. Was it thrilling? Was I delighted? Was I mesmerized? Sure, but again I felt like a boy. I had set out to demand the most from her, and when she shamelessly obliged, I wound up again intimidating myself. There seemed nothing to be done – if I wished not to be humbled completely by her exotic matter-of-factness – except to fall to my knees to lick her clean. Which she allowed to happen without comment. Making me into a still smaller boy." (71-72)
Though there are more scenes in this book and others by Roth that employ menstrual details to capture character and advance plots, these two embody deep-seated male confusion and anxiety about how to deal with menstrual encounters. The candor Roth exhibits, as is often the case with his writing, is admirable for its openness to exploring taboos, but one also wishes he was able to provide more nuanced treatments of women's experiences as well. Perhaps we should turn to Joyce Carol Oates in search of such treatments. Perhaps in a future post.