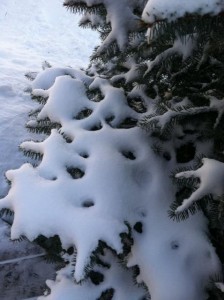 The other day a Huffington Post article crossed my desk, titled, "Gift Guide 2012: What To Get The Menopausal Women In Your Life." According to this article, here are some of the things menopausal women (read: perimenopausal women) might want this December:
Coldfront cooling palm packs (to relieve sweaty palms)
A personal desk fan (for those hot flashes at work)
A "menopause gift basket" filled with healthy treats and goodies, maybe also including vitamins, and alternative remedies for relief, "to stabilize mood and help the body adjust to hormonal changes."
A Feel Cooler Cooling Mattress Pad or Cooling Pillow that interacts with your nightly body temperatures to cool you down (for night sweats)
Cool Sensations Moisture Wicking Bed Sheets (reportedly for those floods of night sweats you might get)
Hot Girls Pearls – cooling beads to wear around your neck (for hot flashes) – apparently these have even made it onto Oprah's Show
Tickets to Menopause the Musical
Sweat-wicking pajamas (there are lots of different brands, again to deal with night sweats)
Clearly the theme here is that menopausal women get hot and need relief. Fair enough, for many menopausal women this would be true. But this list got me thinking: what might I add to this list? Here are some I thought of:
Humorous gifts, such as books of jokes about menopause and aging?
Books about menopause
Cookbooks that specialize in natural eating?
A yoga gift certificate? Or other exercise certificate?
I'd love to hear from readers about other ideas for menopause-related holiday gifts.
Then I got to thinking again: If my daughter had reached menarche already, what kinds of holiday gifts could I get her that relate to her life stage? Here are some of the ideas I thought of, and I definitely need help from readers to expand this list:
Pretty reusable (washable) maxi pads (e.g., Lunapads)
A cool bag to carry maxi-pads around in
A cool tampon case (like the ones that Uncommon Goods sells)
Cool new (extra) underwear
A special calendar for her to use to track her periods
New Moon Girls' magazine (or just an online membership to New Moon Girls)
The book, Our Bodies Ourselves, or other books on puberty and menstruation
So, readers, what else belongs on this list? Those of you already buying for Hannukah and Christmas might have some great ideas…..please chime in!