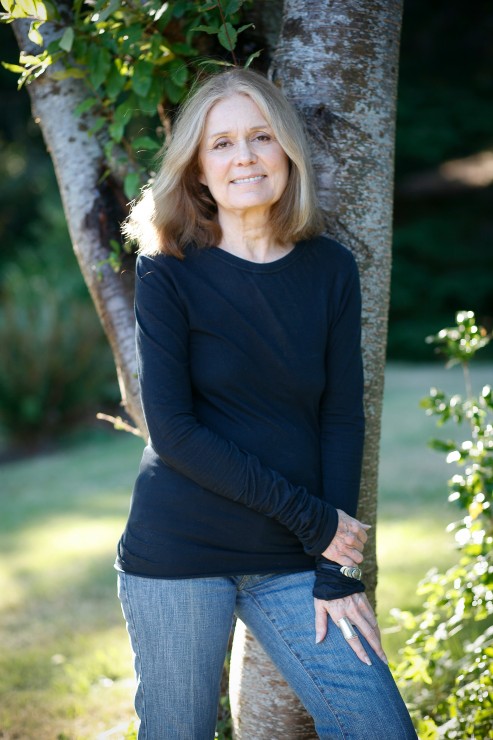 In 1978, feminist pioneer Gloria Steinem penned a brilliant satire first appearing in Ms magazine and later in her collected essays  Outrageous Acts and Everyday Rebellions. In it, she blew the lid off how gender ideology (read: sexism) shapes how we "do" menstruation.
Nearly 40 years old, this piece STILL hums. Have you read it?
Where tongue meets cheek, Steinem was able to break the menstrual taboo of concealment in under 1000 words. Her bold thought experiment stimulated a conversation that we will keep having until something big shifts in the menstrual discourse.
Until then, Steinem wryly asks:
So what would happen if suddenly, magically, men could menstruate and women could not?

Clearly, menstruation would become an enviable, worthy, masculine event:

Men would brag about how long and how much.

Young boys would talk about it as the envied beginning of manhood. Gifts, religious ceremonies, family dinners, and stag parties would mark the day.

To prevent monthly work loss among the powerful, Congress would fund a National Institute of Dysmenorrhea. Doctors would research little about heart attacks, from which men would be hormonally protected, but everything about cramps.

Sanitary supplies would be federally funded and free.
Nearly 40 years out, this prose should be nothing more than a quaint artifact of how things USED TO BE. It should be as relevant today as powder blue leisure suits, wide belts and platform shoes. But the gendered root of the menstrual taboo endures.
Because "If Men Could Menstruate", near and dear to menstrual cycle advocates old and new, and emblematic of Steinen's long career of speaking up for women and girls, the Society for Menstrual Cycle Research is pleased to announce that Ms. Gloria Steinem has been chosen as the first recipient of the newly established Making Menstruation Matter award.  This award recognizes a journalist, activist, artist, public figure or organization that has meaningfully contributed to the public understanding of menstrual cycle-related issues. The intention of the award is to honor and encourage thoughtful dialogue about the menstrual cycle beyond the academy.
Timing is everything.
At the same time that "If Men Could Menstruate" was published, The Society for Menstrual Cycle Research was forming. Now more than 3 decades later, it seems most appropriate to honor the courage Gloria Steinem has shown throughout her career in articulating and calling attention to women's realities and imagine something better. To quote Peggy Stubbs, SMCR president:
The intersection of her lifetime achievements and our Society's interests, is no doubt, an example of how far-reaching Ms. Steinem's work has extended. For our part, we want to let her know that her work has and continues to energize ours. And we know there are others who, like us, have been and are similarly inspired by Ms. Steinem to continue to work in their own ways to enhance the quality of girls' and women's lives.
SMCR will present the award to Steinem during the 20th biennial conference, to be held in NYC, June 6-8 2013. Details on attending the conference and the award ceremony are available here.
Join us to honor Gloria Steinem and hear her remarks about a piece that is timeless, but shouldn't be.