Your fertility is not a deep, dark mystery only your doctor can unravel. It's yours to own, understand and manage. Forget the ticking biological clock, it's the wrong metaphor. Fertility ebbs and flows, like the phases of the moon. It's about the cycle – not the clock.
Are you wondering about your fertility status? Will you be able to have a baby when you want to?
Seems these questions are on the rise for 20- and 30-something women who are finally getting the message that putting off motherhood may not be a good idea. Recent news stories report that young adults don't know the facts of fertility decline and overestimate the success of reproductive technologies.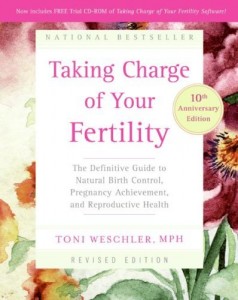 But as the message gets through, the response makes my eyes roll.
Judith Timsom, one of my favorite columnists, recently pondered the fertility fears many young women are having.  Among them:
A third woman, turning 30, with a committed partner and a great job, made fertility sound like the new "f" word as she glumly remarked to a friend ,"My doctor told told me my fertility just dropped 50 per cent. Crap."
This is crap. It misrepresents how fertility works. Timson writes that "young women – and men – are crying out for more factual, emotionally neutral information on how their fertility works."  Forgive me if I, and at least 700,000 others – the number of people who have purchased Toni Weschler's  Taking Charge of Your Fertility since it was first published in 1995 – shake our heads in frustration.
What women need is body literacy, the know-how to observe, chart and interpret our menstrual cycle events so that we – not the doctor, not the lab tech – can confirm our fertility status. Yes, it's called fertility awareness, and, since the late 60s, millions  of women world-wide, including me – a bonafide pro-choice feminist, have used this life skill to both avoid and achieve pregnancy.
If you're worried about your fertility, here are five things you need to know:
You can learn to observe and chart three key signs of fertility: a) fertile cervical mucus b) basal body temperature shift  c) adequate luteal phase, or number of days from ovulation to next period.
If you use hormonal contraception (HC), you have been infertile for as long as you've been using it. When you stop HC, your body has to establish healthy ovulatory menstrual cycles before you become fertile. Health and environmental factors may impact this process. Factor recovery time into your baby plans.
If you began using HC as a teenager for heavy bleeding, painful periods  or irregular cycles chances are your reproductive system has not fully matured. When you quit HC this maturation process will resume. Depending on the method you used, it could take months before you have ovulatory, fertile cycles. Be patient. Holistic Reproductive Health Practitioners can assist in recovering fertility.
If you began using HC for PCOS or endometriosis, expect symptoms to resume when you stop. The Centre for Menstruation and Ovulation Research describes treatments that manage PCOS  and endometriosis while helping to preserve fertility.
Fertility is individually, not statistically, determined. It can ebb and flow from cycle to cycle. Diet, stress, travel and trauma can result in anovulatory, or infertile, cycles. When it comes to getting pregnant, the more you know about your own menstrual cycle, the better.
Fertility awareness is empowering, but Toni Weschler says that in her decades long experience she has repeatedly seen the sense of excitement that women feel evolve into anger. "Women want to know why they weren't taught this when they were teenagers."
The young women Judith Timson writes about have yet to acquire this knowledge. When they do, will they be angry enough to teach their own daughters? Weschler has a book for them, too – Cycle Savvy: The Smart Teen's Guide to the Mysteries of Her Body.  Fertility isn't a mystery if you know where to look for the clues.