Some months ago we published a piece titled "Menstrual Sex: the Last Taboo in Advertising?"  It was an analysis of a magazine ad for Softcups, a disposable menstrual collection cup, and it generated some interesting feedback.  Some reader took exception to the analysis, pointing out that the device and the add didn't actually deal with menstrual sex since its purpose was to create a situation that eliminated any need to actually encounter menstrual fluids and therefore not having to deal with any of the social or psychological taboos nor with any aesthetic reservations the parties might have about having sex during the period.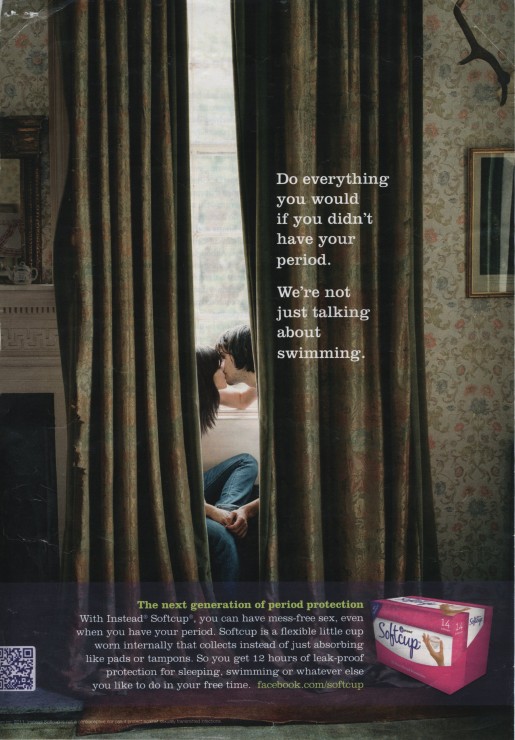 Taking into consideration those thoughtful comments, I thought it might be worthwhile to take a look at another ad in the same series.
The tag line for the earlier ad was, "12 hour leak protection so you can sleep.  Or not." And it showed the legs of a couple lying on top of each other with the women on top glimpsed through an open door, creating a voyeuristic sense of witnessing a private, erotic encounter.  The companion ad uses a similar approach, this time revealing a young couple kissing and holding hands seen through a narrow opening in a pair of thick curtains.  They are back lit by a window and might even be thought to be hiding behind the drapes.
The ad is a semiotician's delight.  Everything surrounding the couple reads "old fashioned."  The drapes are dark and tattered; a mantel on the left has a gilded picture frame above it and a small china tea pot on the shelf; to the right is another formal picture frame, floral wall paper and the edge of a deer's antlers mounted high on the wall; the bottom of the picture fades into darkness.  However, at the bottom edge is a box of the Softcup product, angled in such a way as to appear to be emerging from the dark room.
In addition to the headline, "Do everything you would if you didn't have your period. We're not just talking about swimming." The body text drives home the notion that this is a new product for a new generation that is less squeamish about sex during the period than the original occupants of the room: "The next generation of period protection."  It goes on to mention "mess-free sex" and the rest of the copy stresses that the cup will contain the menstrual flow so that you can go about your life just as though you didn't even have a period.
And, ironically, that's just what turns the ad into a reaffirmation of the anti-period sex stereotype.  Though posing as a hip, new product to appeal to young women who presumably are not hampered by antiquated notions of when in the cycle it is OK to have sex, the ad implies that, just like the long tradition in pad and tampon ads, you can go about your life as though you did not have a period.  In other words, it's another appeal to "keep him from knowing."