Guest Post by Lisa Leger
Yesterday (June 4) on MSNBC-TV, my girl Rachel Maddow interviewed New York Times columnist Gail Collins, author of the new book, As Texas Goes. The book criticizes the state's politics and morality laws and their impact on the rest of the country. Now, I'm all for slagging the state of Texas for its abstinence-only sex ed policy, and I look forward to reading Collins' book (which Maddow called "the funniest political book of the year"). However, my problem started when Maddow read a quote that seems to mock a piece of sexual health information that is actually correct.
The statement in question is "if the woman is dry, the sperm will die" , followed by the interpretation that it is some sort of colonial-era notion relating to the woman's enjoyment or collusion in the sex act. Of course, the quote refers to fertile mucus and not lubrication or ejaculate, as the rather garbled interpretation seemed to imply. It's a shame that a piece of perfectly useful information about fertility is confused with some arcane puritanism to make the [valid] point that abstinence-only sex ed is backward. I'm also disheartened [and vindicated] to see my assertion that mucus is either left out of sex education or inadequately taught being demonstrated once again.
In this story, though, my concern is not for the un-informed teens I champion in the blog linked here — but for the many adults who worked with Collins on her book and with Maddow on her show who let that reference get by them. Are we to assume that none of them ever learned to chart their cycles? Could there be no one on either staff trying to get pregnant? How can not a single one of the likely dozens of professional writers, fact checkers, and other staff members not have noticed that the reference they chose to hold up to ridicule is actually valid information about sperm survival in mucus?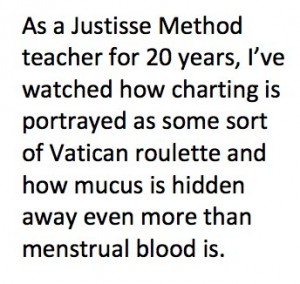 A "Strange Bedfellows moment" for me as a Fertility Awareness Method (FAM) teacher is when what we teach is lumped in with what abstinence-only courses teach.  Another example would be finding oneself in favor or opposed to something like hormone pills for entirely different reasons.  As a Justisse Method teacher for 20 years, I've watched how charting is portrayed as some sort of Vatican roulette and how mucus is hidden away even more than menstrual blood is. I wince when I see perfectly good educational opportunities go by the wayside like that. How do the biological facts of fertility (sperm need mucus to survive) become invalidated simply by being taught from an authoritarian religious perspective?  I usually see the humor in a strange bedfellows moment, but hearing an evangelical Texan being mocked for teaching kids some mystical version of what I teach — this one stings a bit.
Lisa Leger is a member of the Society for Menstrual Cycle Research and a Justisse Fertility Awareness teacher on Vancouver Island.