April 14, 2015 

I wish to thank all the women who've shared their experiences with Depo-Provera in the three years since this blog post was published. Comments are now closed. You can find more information here: Stopping Depo-Provera: Why and what to do about adverse experiences 

Those concerned about Depo-Provera and bone density may want to read Depo-Provera Use and Bone Health recently posted at the Centre for Menstrual Cycle and Ovulation Research.

Laura Wershler
Need proof that women are sometimes desperate for information and support when it comes to quitting hormonal contraception? You need look no further than the 100 plus comments in reply to an old blog posting at Our Bodies Ourselves: Questions About Side Effects of Stopping Contraceptive Injections.  The comment stream – a litany of woes concerning women's discontinuation of Depo-Provera – has been active since Nov. 2, 2009.
On March 29, 2012, Rachel, author of the post, wrote a follow-up piece in which she laments: "Although a quick internet search finds many women complaining of or asking about post-Depo symptoms, there isn't much published scientific evidence on the topic." Beyond research about bone density and length of time to return to fertility, little is known about the withdrawal symptoms women have been commenting about.
Depo-Provera is the 4-times-a-year birth control injection that carries an FDA "black box" warning that long-term use is associated with significant bone mineral density loss.  Never a fan, I made a case against this contraceptive in a paper for Canadian Woman Studies, published in 2005. The comments on the OBOS post indicate that many women took Depo-Provera without full knowledge of the potential for serious side effects while taking it, or of what to expect while coming off the drug.
Considering that Depo-Provera completely suppresses normal reproductive endocrine function, it is not surprising that many women experience extreme or confusing symptoms once stopping it. Take Lissa's comment for example, posted on February 21, 2011:
Omg I thought I was tripping. I have been on depo for a year and stopped in jan. My breasts constantly hurt, I put on weight, have hot flashes, and sleeping problems. I pray everyday my cycle returns and stops playing with me. I only spot lightly.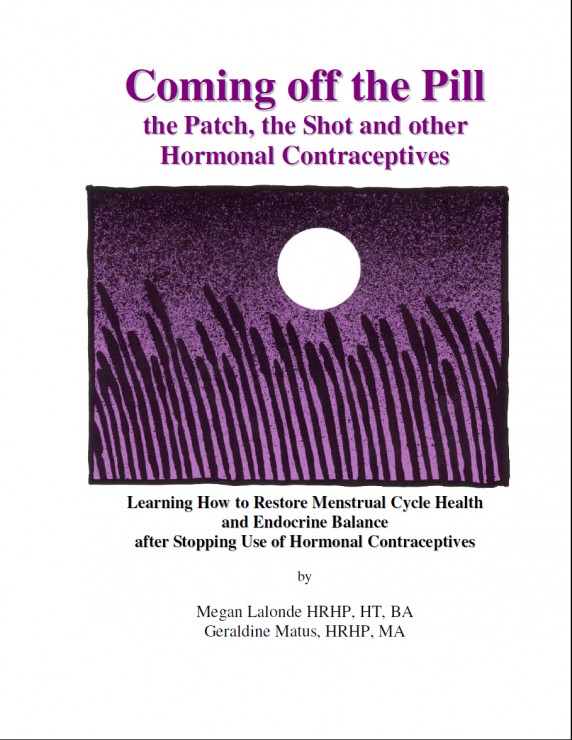 Two and a half years after publication, the original article continues to garner monthly comments. I've read most of them and have yet to see one that offers concrete advice or a referral to resources that provide information and support to women looking for both. One such resource is Coming Off The Pill, the Patch, the Shot and Other Hormonal Contraceptives, a comprehensive, clinical-based guide to assist women transition back to menstruation and fertility, written by Megan Lalonde and Geraldine Matus.
Lalonde, a Holistic Reproductive Health Practitioner, and Certified Professional Midwife, helps women establish healthy, ovulatory cycles after using hormonal contraception. She says that women who've used Depo-Provera generally experience the most obvious symptoms and have the hardest time returning to fertility.  She finds that every client's experience is different and will be affected by the status of their cycles before taking the drug, and their overall health. "It can take time to regain normal menstrual cycles, from a few months to 18 months, in my experience," says Lalonde. "Some women have minimal symptoms while their own cycles resume, while others might have significant symptoms, including mood changes, unusual spotting and breast tenderness."
The comments to the Our Bodies Ourselves blog post demonstrate that many women are not finding the acknowledgement and support they need to understand and manage the post-Depo transition. Some are disheartening to read, like this comment by Judy from April 12, 2011, and this recent one posted by Melani on March 21, 2012.
In my last re: Cycling post, I asked for input on the Coming Off the Pill Mind Map I created. I'll be making a few revisions thanks to the thoughtful feedback readers have provided. I had assumed that this guide would be applicable to all methods of hormonal birth control but, after reading these women's comments about their Depo-Provera experiences, it appears this contraceptive may require its own branch on the mind map.