Everybody can use a good map to help them get to where they're going. Why not women heading to the land of non-hormonal contraception?
In my post on January 11, 2012 I asked if coming off the pill was a growing trend. I proposed to write a series of posts about the issues associated with the decision to stop using hormonal birth control.  For the purposes of this discussion assume that "coming off the pill" refers to quitting any method of hormonal contraception including the pill, patch, ring, shot, implant or Mirena intrauterine system.
As I was preparing a list of possible topics, I realized that one way to represent the complexity of issues involved in this decision is with a mind map: "a diagram used to represent words, ideas, tasks, or other items linked to and arranged around a central key word or idea." It also occurred to me that readers could then add to this schematic, filling in important points based on personal or professional experience. So I got out my colored markers, did a little brainstorming and came up with Coming Off the Pill: Mind Map 1.0. I invite readers to comment, offering additions under the key headings I've noted and suggesting other categories that should be included.  Could this become a talking, planning or process guide for women considering the transition to non-hormonal birth control methods?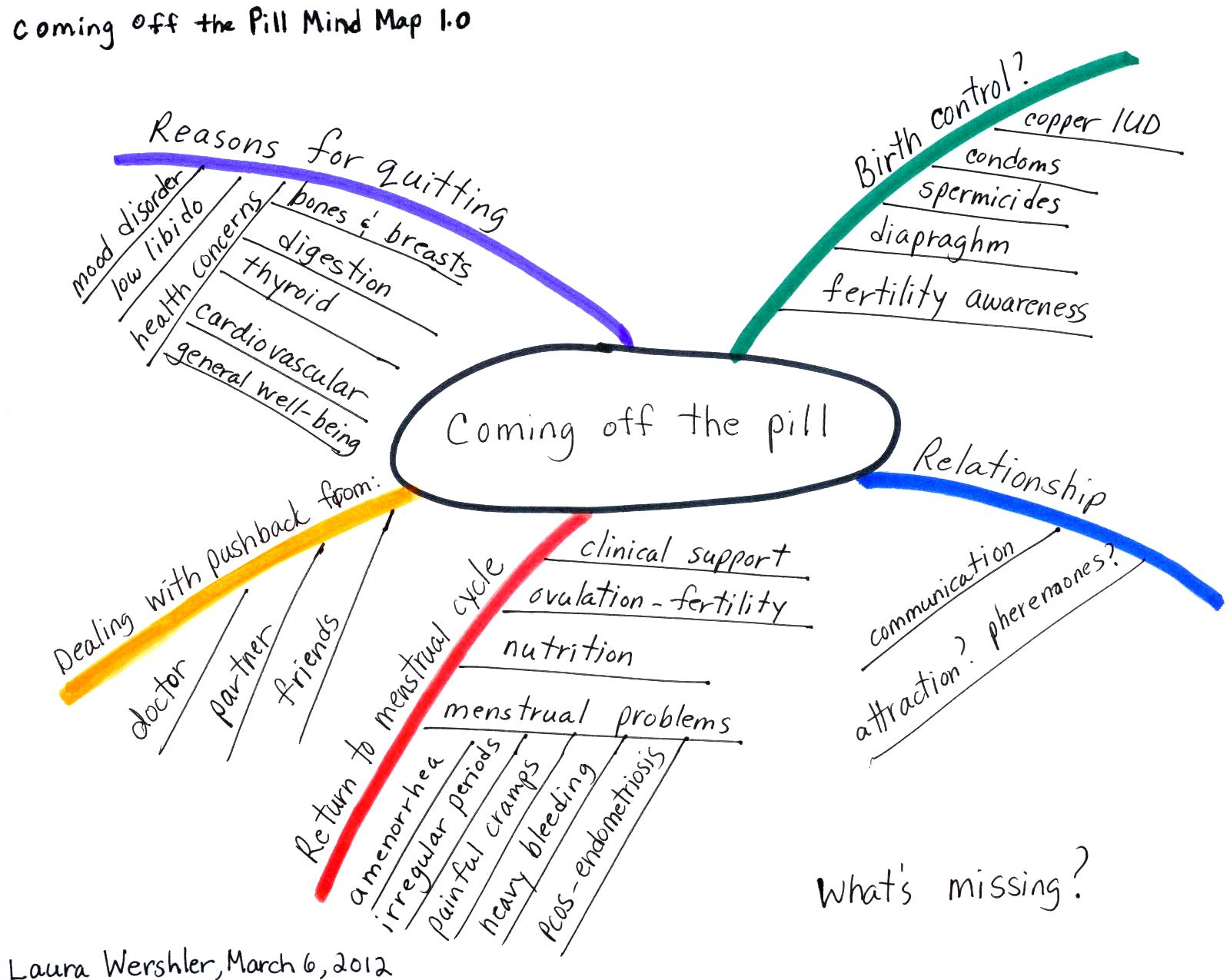 If you've thought about or been through the experience of quitting hormonal contraception, or if you've helped others through the experience, please contribute to the development of Coming Off The Pill: Mind Map 2.0 by posting your comments and suggestions. (I've already thought about other headings I could have included.) Besides providing me with a guide for writing future posts, what other ways can you imagine this mind map might be used?