Do you see the connections between menstrual health awareness and reproductive justice?
At re: Cycling, we sure do, because being critical of how menstruation is regarded (and managed)—from menarche forward—is one way we loosen the social control of women's bodies.
My body, my choice, my whole life long.
And that's exactly what reproductive justice is about—fighting for everyone's access to affordable, quality reproductive health care of their choosing. That's a fight to get behind, not the stupid "War on Women" advanced by certain presidential hopefuls (Hello Rick Santorum).
We are excited about this creative campaign organized by The Trust Women/Silver Ribbon Campaign, a coalition of 42 national and local organizations (the Bay Area Coalition for Our Reproductive Rights (BACORR), Catholics for Choice, NARAL-ProChoice California, Planned Parenthood Shasta Pacific, and SisterSong/Trust Black Women.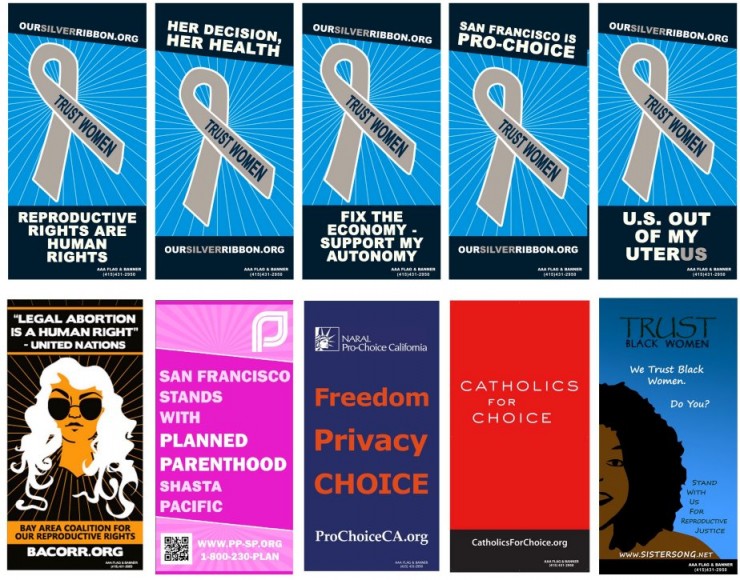 The campaign takes aim at "extremist politicians elected with a mandate to fix the current economic crisis instead chose to divert the public's attention with policy battles about these private decisions."
So why are our legislators and presidential candidates hell-bent on denying access to basic health care services –including contraception and abortion?
Really, why do we let them get away with this?
In San Francisco, The Trust Women/ Silver Ribbon campaign is literally taking the message of reproductive justice to the streets by flying banners—colorful, clear and decisive—all over the city. The banners are more than a defensive operation in the battle against women's autonomy; they seek to end the offensive by reminding us that most Americans are, after all, pro-choice.
The banners read:
Her Decision, Her Health
U.S. Out of My Uterus
Fix the Economy, Support My Autonomy
Reproductive Rights are Human Rights
San Francisco is Pro-Choice
That's all very good, you might say, but I don't live in San Francisco.
During Trust Women Week, January 20-27, the campaign is staging a Virtual March (with  MoveOn)—a time for reproductive justice supporters to express their support online.
So go here and take action.  Let's end the War on Women.