Guest Post by Saniya Ghanoui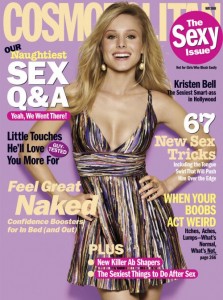 Cosmopolitan is open about its coverage of sex. It is curious then that the coverage of period sex is limited and not as open or adventurous as other sex ideas found in the magazine. The message regarding period sex is simple: men must be protected from menstrual blood.
The idea that a male will touch blood stirs the ideas of castration, a battle, or even death and thus must be avoided. This is ironic, given that many women actually have a heightened sexual arousal while on their periods. And since Cosmopolitan is directed towards women it is odd that it does not put women's issues on the forefront but rather still caters to the taboo, despite hiding behind its catchphrase of "Fun Fearless Female."
In the Cosmo Sex Challenge, one Cosmopolitan writer and her boyfriend attempt to try 77 sex positions in 77 days. Typically the writer's period should come up approximately twice in 77 days, yet is only mentioned once. She mentions that her boyfriend isn't "into it," in reference to period sex, but convinces him to do it. After one hot and heavy night, in the boyfriend's bed, she notices red handprints on the sheets so she throws a pillow over them and makes a "mental note to change his sheets tomorrow morning." This is a physical act of apologizing.
The changing, and it can be assumed the subsequent washing of the sheets, not only works as an implicit apology but also reemphasizes the stereotype that women must perform this idea of a proper feminine role in a relationship. Also, she is changing the sheets so her boyfriend does not find out about the handprint, meaning she does not want him to see the blood. For what reason? Is she ashamed that she bleeds? Embarrassed?
In addition, when she first sees the handprint her reaction is "Oh. My. God." Obviously this is an expression of shock that is emphasized by the separation of each word with a period. So after doing these complex sex positions (and many more to come), this is what makes her express shock? Yet, she doesn't seem to be shocked that her period only came once in 77 days.