Could vitamin D deficiency in young girls contribute to early onset of menstruation?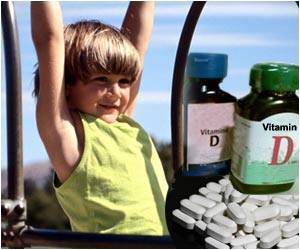 A study conducted by the University of Michigan School of Public Health suggests this may be the case.  Blood vitamin D levels were measured in 242 girls between the ages of 5 and 12 in Bogota, Colombia. The girls were then followed for 30 months.
"Compared to girls in the vitamin D-sufficient group who first menstruated at the age 12.6 years, those in the vitamin D-deficient group started menstruating at11.8 years. (Epidemiologist Eduardo)Villamor says that although 10 months may seem like a small gap, the difference is momentous because at that age, a young girl's body may undergo many changes rapidly."
The findings are significant because of other research suggesting links between early onset of menarche, or first menstruation, before the age of 12 and serious health concerns later in life such as cardiovascular disease and breast cancer. Vitamin D deficiency is also associated with poor bone health and osteoporosis.
This study showing an association between vitamin D deficiency and early menarche raises many questions. Should mothers be asking their doctors to test their daughters vitamin D levels? How might vitamin D supplementation prevent future health concerns now associated with early menarche? What blood level for vitamin D is optimal?
Grassroots Health, a non-profit advocacy organization promoting optimal vitamin D levels for the prevention of disease and maintenance of good health, has recently launched a study on breast cancer prevention with vitamin D. The group also has an initiative called D*Action involving a consortium of scientists, institutions and individuals committed to solving what they consider to be a worldwide vitamin D deficiency epidemic.
Might the girls in Colombia lead the way for vitamin D supplementation to begin at a young age to protect the bones, breast and hearts of the next generation?