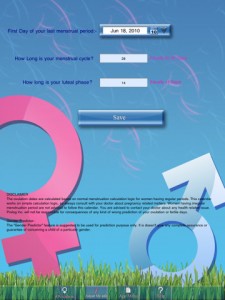 We've written previously about some of the apps for tracking menstruation and PMS, but this new iPhone/Pad app for tracking ovulation is problematic.
iOvulation is an application that calculates the time of ovulation and generates your personal fertility calendar. Simply enter the length of your menstrual cycle and the date of your last period, and iOvulation will calculate your fertile days.
The web site suggests it useful both for trying to conceive and for trying to prevent conception. However, I wouldn't recommend the latter, as its algorithm appears to predict ovulation based on dates of menstruation: "The ovulation dates are calculated based on normal menstruation calculation logic for women having regular periods."
In other words, it perpetuates what Toni Weschler, author of Taking Charge of Your Fertility: The Definitive Guide to Natural Birth Control, Pregnancy Achievement and Reproductive Health and Cycle Savvy: The Smart Teen's Guide to the Mysteries of Her Body, labeled the two biggest myths about menstruation in this interview with Scarleteen: (1) the idea that ovulation occurs on Day 14, and (2) A normal menstrual cycle is 28 days.
Also of interest is how squeamish the creators appear to be about sex and reproduction: the web site refers to "unprotected i*********e" and notes that the probability of conception is calculated "based on your ovulation time and other factors such as lifespan of the egg and s***m". (For those of you unaccustomed to the practice of concealing obscenity with asterisks, that's "intercourse" and "sperm".)
As someone who studies and teaches sociolinguistics and writes about menstruation, I've seen a lot of euphemistic language over the years. But marking intercourse and sperm as unfit for print is a first.