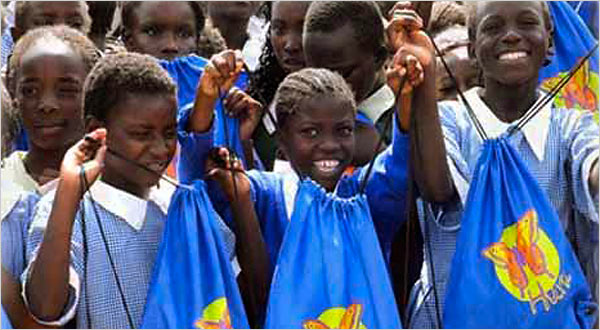 We at re: Cycling have been tracking the African-girls-miss-school-because-they-menstruate equation  for a while now.
Specifically, we've questioned the assumption that menstrual FLOW management is girls' biggest menstrual problem  (it is not, says at least one recent study–cramps are!). And we've been  MORE critical of so-called altruistic solutions that are, underneath the (silent?) disposable wrapper,  little-more than consumer socialization. Menstrual shame, sexism and poverty are not ameliorated though the cultivation of brand loyalty. Girls need information, support and the tools to develop awareness of their bodies while learning to live sustainably–this does not come in the shape of a box of single-use products that ends up clogging landfills.
Making green products available to girls while supporting economic growth and self-sufficiency in the Global South seems a more enduring and girl-centered initiative and there are number of projects that are doing just that. There Elizabeth Scharpf's SHE initaitive in Rwanda and Lunapads donation program in collaboration with a number of related initiatives:
Yesterday, the NYTimes reported on a new study of Ghanian girls that found: " Many schoolgirls from poor families stay home up to five days each month when they have their period." (but could cramps be the culprit as they were in the study released in December 2009?)
The same piece described  another cloth- pads- for- girls outreach effort, this one organized by a group called Huru International and supported by this eclectic list of backers:  President's Emergency Plan for AIDS Relief, the Elton John AIDS Foundation, Johnson & Johnson, Sunflag Steel, Warner Brothers. Huru International  developed washable cloth pads and packaged them together with a few pairs of panties, laundry soap and HIV/AIDS info into kits for school girls in Kenya. Cloth pads–though admittedly not every menstruator's preferred menstrual care option, does make sense especially for girls who lack the resources to buy single use products  (one Kenyan girls reports that a box of pads costs is equivalent to the cost of a bag of corn flour).
It seems that the good ole' time-tested cloth pad is emerging as a viable option for girls throughout Africa.
We think that's encouraging news, for the planet AND for girls.