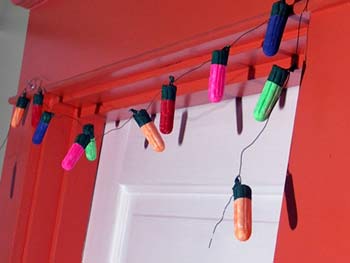 So I heard there are a couple of big holidays this month that involve elaborate (or not-so-elaborate) decoration of one's home. Perhaps you're the crafty sort, and would like to make your own holiday decorations; Tampon Crafts is the web site you've been looking for!
My personal favorite is the tampon lights pictured at right, but the site also offers instructions to make a tampon menorah, angels, snowflakes, and more. There are seasonal tampon crafts for the entire year.
What a great way to recycle all those extra tampons lying around after you've switched to cloth pads and/or menstrual cups!