We're a week late in commemorating World Menopause Day here at re:Cycling. Sounds like a holiday right up there with Menstrual Monday, but it doesn't sound very celebratory, from what I can discern.
I discovered World Menopause Day, observed annually on October 18, when a press release for GEM Keep it cool™, "the first ever, ready to drink wellness supplement for menopause relief made with natural and nature-identical ingredients free of the risks associated with hormones" showed up in my inbox yesterday. Cynic that I am, I wondered if this holiday was simply about selling products to middle-aged women, so I began poking around on the internetz.
I found that World Menopause Day has a venerable history: it was started in 1984 by the International Menopause Society (IMS) and the World Health Organization (WHO). Both are reputable, credible organizations with admirable goals, so I was easily persuaded that World Menopause Day isn't all about marketing. IMS marks World Menopause Day by doing its best to spread the word about potential health consequences of menopause:
In observation of the day, the IMS, through its organ the Council of Affiliated Menopause Societies, distributes sample press materials to inform women about menopause, its management and the impact of estrogen loss. World Menopause Day can also be a call to implement policies that support research and treatment in the area of menopausal health.

As the world's population ages, there will be increasing numbers of women entering menopause and living beyond postmenopause. The potential symptoms of menopause may have a negative impact on the quality of daily life. Moreover, the consequences of menopause can lead to a host of age-related diseases including heart disease and osteoporosis. Nations around the world should continue to educate women about menopause and the benefits of preventive health care.
The North American Menopause Society (NAMS) offers similar party plans:
The North American Menopause Society (NAMS), in conjunction with The International Menopause Society, recognizes October 18 as World Menopause Day. This important day is acknowledged by the organization as the day when all nations should take active steps to educate women about the health-related implications of menopause.
I grok that many women, probably even a statistical majority, experience some unpleasant symptoms during the menopausal transition. And I know that the Baby Boom generation thinks no one ever experienced menopause before (just like they were the first to experience adolescence, sex, parenthood, and other milestones), but why does all of the acknowledgment of menopause and education about it have to be so clinical? Not to mention so sad. Menopause is not a disease. It's a natural phase of adult women's lives, and I'm really hoping it comes with some benefits. (For instance, I'm looking forward to being a wise old crone, esteemed by my community. Being a smart-assed young woman and now, middle-aged woman, hasn't won me as much esteem as you might think.)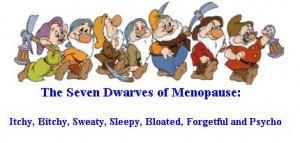 I'm tired of seeing menopause represented as abject misery. I was especially distressed to see one blog marking World Menopause Day with this illustration of the Seven Dwarves of Menopause. It's another pathetic example of propagating the idea that women are ruled by their hormones, which are always destructive. There's clearly a lot of education to be done about menopause, hence the need for World Menopause Day, but also a need to find ways to celebrate aging.
To learn about official Society for Menstrual Cycle Research views of menopause, read our Testimony to Office of Research on Women's Health at NIH [2009] and our Position Statement on the Women's Health Initiative & Estrogen Therapy [2007].