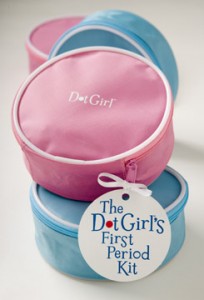 Dot Girl™ First Period Products, a retailer of first menstrual period kits for pre-teen girls, announced today that they are partnering with Best Bones Forever!, a national campaign led by the U.S. Department of Health and Human Services' Office on Women's Health.
It's hard to get cranky about a federal program that seems to consist mostly of PSAs about good health habits for girls, but a couple of things about this particular campaign make my SpideySense tingle:
The press release about this new partnership states that Dot Girl™ is based in Seattle and was founded by sisters Terri Goodwin and Kathy Pickus with the intent to help parents manage the often difficult conversation about menstruation with their prepubescent daughters. The sisters' products also "create empowered young women who have a positive first period experience." But a closer look at the contents of the Dot Girl's First Period Kit suggests a close relationship with Kimberly-Clark: it contains two Kotex products and coupons for discounted purchase of other Kotex products. I also note that the name and logo of the company, Dot Girl, evokes the red dot used in Kotex commercials and logos. Kotex received a lot of kudos when their Red Dot campaign was first launched in 2000, for its playfulness and for being the first advertising campaign in the U.S. to use the word "period".
The Kit also contains a sample package of "Scensibles™", labeled "scented bags for clean, easy, discreet disposal of feminine care products" and a package of hand wipes. I suppose these are included because periods are so smelly and dirty; apparently empowerful young women need to be very clean. In the U.S., it is not unusual for key developmental moments such as menarche to be marked by increased consumer behavior but it still rubs me the wrong way that an organization purportedly focused on helping girls and their parents with this transition tries to do so by selling stuff – especially unnecessary stuff with shaming implications.
I also note that all the material about how to develop and maintain healthy bones makes no mention of the link between bone health and menstruation. With each ovulatory cycle, the ovary secretes progesterone, which stimulates the production of osteoblasts. Osteoblasts are cells that build new bone. If menstruation is irregular or suppressed with cycle-stopping contraceptives (which work by suppressing ovulation), bone health can be negatively affected.